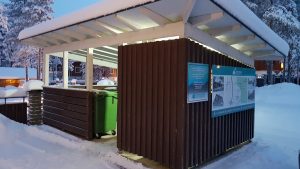 We have absolutely great news!
We've got a small recycling center for our Levi Kultarinne alpinehouses trash building!
From now on, in our apartments you can recycle burnable waste, paper, plastic, metal, glass and cardboard packaging. Inside the apartments, the trash cans have four different compartments and in addition we will soon have another bin in the kitchen. So there are six containers in total.
Guidance on recycling is currently available on rinkiin.fi and in the future as we get prints to our apartment files.
There are also instructions on where to put garbage in outdoor.
In this case we are pioneers in Levi and not many cabins have such an opportunity yet!
We hope that our customers will notice this opportunity that has been made possible by Hettula Oy.
Let's keep Levi clean together!